Pravidla soutěže o vánoční balíčky
Přečtěte si pravidla instagramové soutěže o tří vánoční balíčky, která probíhá od 5. 12. do 7. 12. 2021.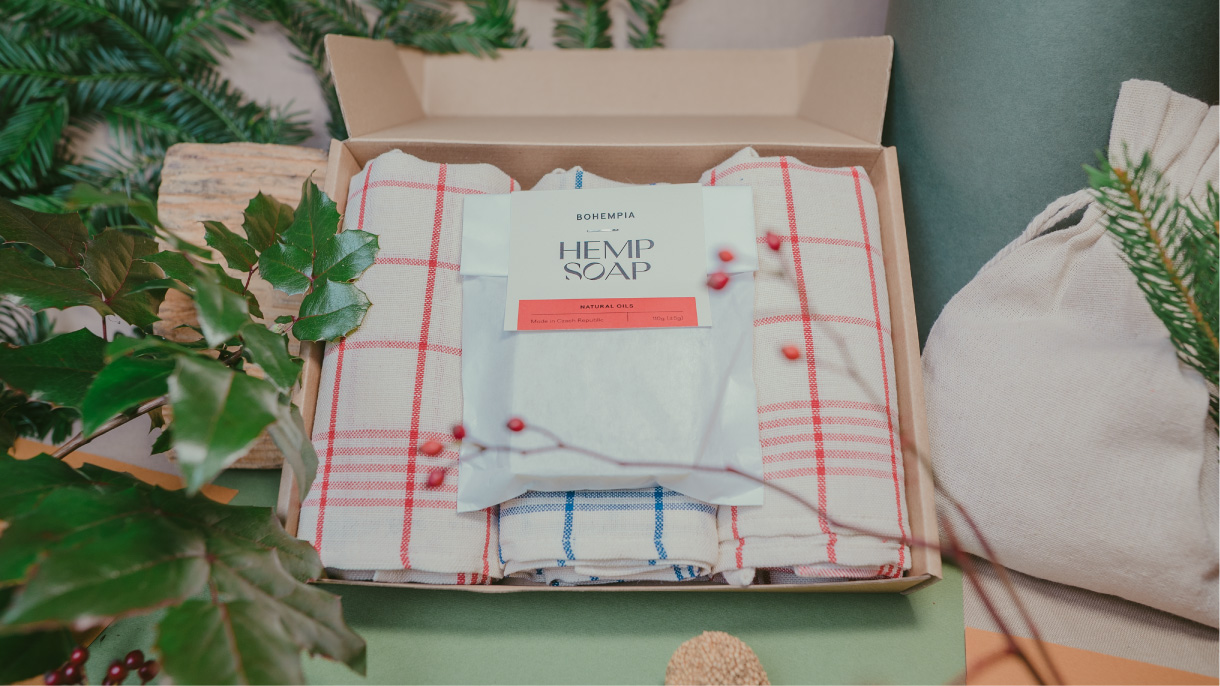 1. ÚVODNÍ USTANOVENÍ
1.1 Účelem tohoto dokumentu je stanovení podmínek účasti v příležitostných soutěžích na Facebook a Instagram profilu Bohempia (dále jen "Soutěž").
1.2 Pořadatelem je společnost Bohempia s.r.o., IČ: 03827879, se sídlem Sokolovská 105/76, Karlín, 186 00 Praha, zapsaná u Městského soudu v Praze, oddíl C, vložka 238253. (dále jen "Pořadatel").
1.3 Tyto podmínky účasti v soutěžích na Facebook a Instagram profilu Bohempia (dále jen "Podmínky") doplňují Všeobecné obchodní podmínky dostupné na internetové adrese https://bohempia.com/jak-nakupovat/#obchodni-podminky s tím, že je-li určité ustanovení v Podmínkách odlišné od ustanovení ve Všeobecných obchodních podmínkách, má takové ustanovení v Podmínkách přednost.
1.4 Soutěž trvá od 5. 12. do 7. 12. 2021, do 23:55 hodin. Vyhlášení soutěže proběhne pod soutěžním příspěvkem a v soukromé zprávě.
1.5 Soutěž není nijak sponzorovaná, spravovaná nebo přidružená k sociální síti Instagram, Facebook ani jiným poskytovatelům služeb informační společnosti.
2. ÚČAST V SOUTĚŽI
2.1 Soutěžícím se může stát pouze osoba starší 15 let, která akceptuje a dodržuje pravidla soutěže a také zásady služby Facebook a Instagram.
2.2 Účastník pro účast v soutěži komentuje soutěžní příspěvek, u kterého je k soutěži vyzván.
2.3 Soutěžící se může soutěže účastnit pouze jednou.
2.4. Podmínkou účasti je splnění soutěžního úkolu ("Do komentáře napište, který z vánočních balíčků byste chtěli a proč.").
3. VÝHRY V SOUTĚŽI A VYHLÁŠENÍ
3.1 Vítěz soutěže bude vybrán v souladu s pravidly soutěže vždy nejdéle do 24 hodin od skončení soutěže.
3.2 Ze správných odpovědí Pořadatel vylosuje tři výherce, kteří mají nárok na jeden z vánočních balíčků vlastního výběru (z nabídky zde: www.bohempia.com/vanoce).
3.3 Výměna věcných výher za peněžitou výhru není obecně možná. Účast v soutěži ani výhry není možné vymáhat právní cestou.
3.4 Výherce bude o výhře vyrozuměn pomocí označení jeho profilu pod soutěžním příspěvkem a do soukromé zprávy. Výhra mu bude odeslána na jím poskytnuté jméno, příjmení a doručovací adresu, a to nejpozději do dvou týdnů od vyhlášení soutěže na náklady Pořadatele.
3.5 Pokud se výherce o výhru nepřihlásí do 24 hodin od vyhlášení, propadá výhra Pořadateli.
4. OCHRANA OSOBNÍCH ÚDAJŮ
4.1. Soutěžící souhlasí s tím, aby Pořadatel soutěže zpracovával jím poskytnuté osobní údaje v rozsahu jméno, příjmení, přezdívka, e-mailová adresa, adresa, telefonní číslo, a to pro účely vyhodnocení soutěže, pro potřeby kontaktu s těmito osobami, i pro informování těchto osob o produktech a službách nabízených Pořadatelem soutěže a o jiných nabídkách v této souvislosti (obchodní sdělení).
4.2. Pořadatel tímto informuje každou osobu, která poskytla v soutěži své osobní údaje ke zpracování, že poskytnutí těchto údajů je dobrovolné, že každá taková osoba má právo na přístup k těmto údajům, právo požádat o vysvětlení a případně právo požadovat odstranění vzniklého stavu, zejména blokování, provedení opravy, doplnění či likvidaci údajů a další práva uvedená v § 11 a 21 zákona č. 101/2000 Sb., o ochraně osobních údajů, ve znění pozdějších předpisů. Souhlas se zpracování osobních údajů je možné kdykoliv písemně odvolat na adrese sídla Pořadatele. Odvolání souhlasu však může mít za následek nemožnost předání případné výhry.
5. VYLOUČENÍ ZE SOUTĚŽE
5.1. Osoby nesplňující podmínky účasti v soutěži nebo jednající v rozporu s těmito pravidly budou ze soutěže vyřazeny.
5.2. Pořadatel si současně vyhrazuje právo bez udání důvodu vyřadit ze soutěže osoby, jejichž chování, soutěžní příspěvek či facebookový profil vykazují známky nekalého či podvodného jednání nebo odporují pravidlům sociální sítě Facebook a Instagram.
5.3. Pokud se ze soutěže vyřazená osoba stane výhercem, nemá nárok na výhru. Organizátor soutěže si vyhrazuje právo kontroly a přezkumu splnění podmínek pro účast ve hře a posouzení nároku na výhru.
6. ZÁVĚREČNÁ USTANOVENÍ
6.1. Pořadatel neručí za jakékoliv technické problémy v souvislosti s účastí v soutěži (funkčnost sítě, ztráta dat atp.). Pořadatel dále neručí za doručení zprávy, kterou bude zasílána informace o výhře ani za doručení výhry samotné.
6.2. Pořadatel si vyhrazuje právo ze závažných důvodů soutěž bez náhrady zkrátit, přerušit nebo zrušit bez výběru výherců či jinak změnit pravidla soutěže. V případě, že dojde ke změnám v pravidlech soutěže, bude toto učiněno písemně a zveřejněno na místě původních pravidel. Účinnost této změny nastává okamžikem zveřejnění dle předchozí věty.
6.3. Případné námitky proti průběhu soutěže lze Pořadateli zaslat písemně na poštovní adresu Pořadatele nebo e-mailem na adresu marketing@bohempia.com do 3 pracovních dnů od ukončení soutěže. Námitky podané později nebudou brány v potaz.
6.4. Pořadatel si vyhrazuje právo konečného posouzení splnění či nesplnění podmínek stanovených pro získání výher v soutěži. Pořadatel tímto nepřebírá vůči účastníkům soutěže žádné jiné závazky a tito nemají nárok na jakákoliv jiná plnění ze strany Pořadatele než uvedená v těchto pravidlech.
6.5. Tato pravidla a právní vztahy vznikající mezi Pořadatelem soutěže a soutěžícími, jakož i související právní vztahy se řídí právním řádem České republiky.
V Praze dne 3. 12. 2021.
-----------------------------------------------------------------------------------------------------------------------
NO PURCHASE IS NECESSARY TO ENTER OR WIN. A PURCHASE DOES NOT INCREASE THE CHANCES OF WINNING.
1. Eligibility: This Campaign is open only to those who sign up at the www.instagram.com and who are older than 15 as of the date of entry. Employees of Bohempia company, its affiliates, subsidiaries, advertising and promotion agencies, and suppliers, (collectively the "Employees"), and immediate family members and/or those living in the same household of Employees are not eligible to participate in the Campaign. The Campaign is subject to all applicable federal, state, and local laws and regulations. Void where prohibited.
2. Agreement to Rules: By participating, the Contestant ("You") agree to be fully unconditionally bound by these Rules, and You represent and warrant that You meet the eligibility requirements. In addition, You agree to accept the decisions of Bohempia as final and binding as it relates to the content of this Campaign.
3. Campaign Period: Entries will be accepted online starting on 5. 12. 2021 10am CET and ending 7. 12. 2021 11:55am CET. All online entries must be received by 7. 12. 2021 11:55am CET.
4. How to Enter: The Campaign must be entered by submitting a comment competitor's Facebook post where the competition was announced ("the competition post"). The entry must fulfill all Campaign requirements, specified in the competition post ("Tell us in the comments below which one of our packages you would like to have and why."). Entries that are incomplete or do not adhere to the rules or specifications may be disqualified at the sole discretion of Bohempia. Optional verbiage to include: You may enter only once. You must provide the information requested. You may not enter more times than indicated by using multiple email addresses, identities, or devices in an attempt to circumvent the rules. If You use fraudulent methods or otherwise attempt to circumvent the rules, your submission may be removed from eligibility at the sole discretion of Bohempia.
5. Prizes: Bohempia will select three winners. The winners of the Campaign (the "Winner") will receive any christmass pack which are available on the e-shop www.bohempia.com at the time of selection of the Winner. The specifics of the prize shall be solely determined by Bohempia. No cash or other prize substitution shall be permitted. The prize is nontransferable. Any and all prize-related expenses, including without limitation any and all federal, state, and/or local taxes, shall be the sole responsibility of Winner. No substitution of prize or transfer/assignment of prize to others or request for the cash equivalent by Winner is permitted. Acceptance of prize constitutes permission for Bohempia to use Winner's name, likeness, and entry for purposes of advertising and trade without further compensation unless prohibited by law.
6. Odds: The odds of winning depend on the number of eligible entries received.
7. Winner Selection and Notification: Winner will be selected based on a draw. Winner will be notified by a private message and in the comments section within 24 hours following selection of Winner. Bohempia shall have no liability for Winner's failure to receive notices due to spam, junk e-mail, or other security settings or for Winner's provision of incorrect or otherwise non-functioning contact information. If Winner cannot be contacted, is ineligible, fails to claim the prize within 2 days from the time award notification was sent, or fails to timely return a completed and executed declaration and release as required, the prize may be forfeited and an alternate Winner selected. ANY VIOLATION OF THESE OFFICIAL RULES BY WINNER (AT BOHEMPIA'S SOLE DISCRETION) WILL RESULT IN WINNER'S DISQUALIFICATION AS WINNER OF THE CAMPAIGN, AND ALL PRIVILEGES AS WINNER WILL BE IMMEDIATELY TERMINATED.
8. Rights Granted by You: By entering this content (e.g., photo, video, text, etc.), You understand and agree that Bohempia, anyone acting on behalf of Bohempia, and Bohempia's licensees, successors, and assigns, shall have the right, where permitted by law, to print, publish, broadcast, distribute, and use in any media now known or hereafter developed, in perpetuity and throughout the World, without limitation, your entry, name, portrait, picture, voice, likeness, image, statements about the Campaign, and biographical information for news, publicity, information, trade, advertising, public relations, and promotional purposes. without any further compensation, notice, review, or consent. Optional verbiage for Contests: By entering this content, You represent and warrant that your entry is an original work of authorship, and does not violate any third party's proprietary or intellectual property rights. If your entry infringes upon the intellectual property right of another, You will be disqualified at the sole discretion of Bohempia. If the content of your entry is claimed to constitute infringement of any proprietary or intellectual proprietary rights of any third party, You shall, at your sole expense, defend or settle against such claims. You shall indemnify, defend, and hold harmless Bohempia from and against any suit, proceeding, claims, liability, loss, damage, costs or expense, which Bohempia may incur, suffer, or be required to pay arising out of such infringement or suspected infringement of any third party's right.
9. Terms & Conditions: Bohempia reserves the right, in its sole discretion, to cancel, terminate, modify or suspend the Campaign should virus, bug, non-authorized human intervention, fraud, or other cause beyond Bohempia's control corrupt or affect the administration, security, fairness, or proper conduct of the Campaign. In such case, Bohempia may select the Winner from all eligible entries received prior to and/or after (if appropriate) the action taken by Bohempia. Bohempia reserves the right, in its sole discretion, to disqualify any individual who tampers or attempts to tamper with the entry process or the operation of the Campaign or website or violates these Terms & Conditions. BOhempia has the right, in its sole discretion, to maintain the integrity of the Campaign, to void votes for any reason, including, but not limited to: multiple entries from the same user from different IP addresses; multiple entries from the same computer in excess of that allowed by Campaign rules; or the use of bots, macros, scripts, or other technical means for entering. Any attempt by an entrant to deliberately damage any website or undermine the legitimate operation of the Campaign may be a violation of criminal and civil laws. Should such an attempt be made, Bohempia reserves the right to seek damages to the fullest extent permitted by law.
10. Limitation of Liability: By entering, You agree to release and hold harmless Bohempia and its subsidiaries, affiliates, advertising and promotion agencies, partners, representatives, agents, successors, assigns, employees, officers, and directors from any liability, illness, injury, death, loss, litigation, claim, or damage that may occur, directly or indirectly, whether caused by negligence or not, from: (i) such entrant's participation in the Campaign and/or his/her acceptance, possession, use, or misuse of any prize or any portion thereof; (ii) technical failures of any kind, including but not limited to the malfunction of any computer, cable, network, hardware, or software, or other mechanical equipment; (iii) the unavailability or inaccessibility of any transmissions, telephone, or Internet service; (iv) unauthorized human intervention in any part of the entry process or the Promotion; (v) electronic or human error in the administration of the Promotion or the processing of entries.
11. Disputes: THIS Campaign IS GOVERNED BY THE LAWS OF CZECH REPUBLIC. As a condition of participating in this Campaign, participant agrees that any and all disputes that cannot be resolved between the parties, and causes of action arising out of or connected with this Campaign, shall be resolved individually, without resort to any form of class action, exclusively before a court located in Czech republic having jurisdiction. Further, in any such dispute, under no circumstances shall participant be permitted to obtain awards for, and hereby waives all rights to, punitive, incidental, or consequential damages, including reasonable attorney's fees, other than participant's actual out-of-pocket expenses (i.e. costs associated with entering this Campaign). Participant further waives all rights to have damages multiplied or increased.
12. Privacy Policy: Information submitted with an entry is subject to the Privacy Policy stated on the Bohempia website. To read the Privacy Policy click here. Note: a privacy policy is optional, but may be required when running a promotion on the web when using third party platforms or when using features from social channels. Including this information makes it clear to your users how you are going to use their information.
In Prague, on December 3th 2021.